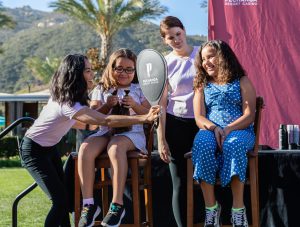 TEMECULA, Calif. — (October 24, 2019) – Tears, wigs and haircuts could be found at Pechanga Resort Casino today. Thirty ponytails were donated and two breast cancer warriors received real-hair wigs during Spa Pechanga's first ever Hair-a-thon. The Hair-a-thon brought out 15 hair donors eager to chop their long locks for October's Breast Cancer Awareness Month.
Janet Mroz and Kristin Berggren, clients of Michelle's Place, a local cancer resource center, both received a donated wig for the first time. The side effects of breast cancer treatment, especially hair loss, can be devastating to a woman's psyche.
"I feel a little more of what I was before all of this started. I feel pretty again," said Janet Mroz, Michelle's Place client undergoing breast cancer treatments. "When it does happen and you lose your hair, it's considered a badge of courage."
At the end of the month, the donated hair will be sent to Hair We Share. Hair We Share provides free real-hair wigs to eligible men, women and children with breast cancer and other medical hair loss conditions. Although the minimum donation requires at least 8 inches of hair to be cut, the longest ponytail received was 21 inches. The 30 ponytails combined is enough to make between three and five real hair wigs for women undergoing breast cancer treatment.
Eleven year old Aaliyah Skarra, pictured above with her sister, adds "my mom had breast cancer but she found it very early and got it removed. I want to try and donate my hair so I can help as much as I can. I would love to continue donating my hair."
Each year during the entire month of October, Spa Pechanga offers free haircuts and styles to anyone eligible to donate their hair to the cause. Now in its seventh year, more than 500 ponytails have been collected through the Mane Campaign.
For more than a decade, Pechanga Resort Casino has been a major supporter of the Susan G. Komen Foundation in its region. Since 2011, resort/casino team members have donated more than $350,000 to the fight against breast cancer and toward raising awareness. The Centers for Disease Control show breast cancer is the most common cancer among American women affecting one in eight. The organization statistics show more than 200,000 women get breast cancer and more than 40,000 women die from the disease each year. Hair loss, one of the most common side effects of cancer treatment, can be especially traumatic for a woman fighting cancer.
For questions or to book one of the last hair donation appointments before October 31, call Spa Pechanga at 951-770-8501 or visit www.pechanga.com.