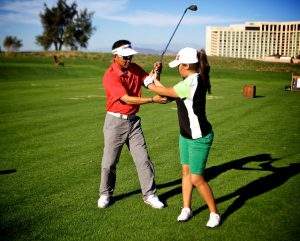 TEMECULA, Calif. – (May 20, 2019) – Summer, sunshine and swings! Following a successful spring break Golf for Girls program, Journey at Pechanga will be offering four-week Golf for Girls series this summer beginning in June. The Golf for Girls summer series are Sundays from 12-1 p.m. Each four-week series is $99. Series dates are June 9-30, July 7-28 and August 4-25.
As an extension of Pechanga's Tiny Tees program and Journey Golf Academy, Golf for Girls is designed for girls of all experience levels ages 3-18. The exclusive series will feature a female-friendly environment focused on education, exercise and of course, fun, where attendees will learn the fundamentals of the golf swing, putting, pitching and famous "Chang Chip" techniques, from award-winning PGA professional Randy Chang, Director of Instruction at Journey at Pechanga.
To sign up, please call the Journey at Pechanga Pro Shop at (951) 770-8210 to reserve your spot.
"The turn out for our spring break program was so successful, we are thrilled to create a new program for the summer with the Golf for Girls summer series. Our goal is to help foster a life-long interest and love for the game by providing girls the skills they need to take into their adult years," said Chang. "Learning how to play golf is not just about skills, but it's also about early education and creating a class designed solely for girls at such a young age. We believe they'll be less intimidated and more engaged by learning alongside their peers."
Randy Chang has more than 35 years of professional golf experience and has been recognized by the PGA and golf industry with several prestigious awards, and is one of the Golf Channel's Golf Academy instructors in Southern California. He is the founder of the Aloha Academy of Golf in Hawaii and Randy Chang Golf Schools in southern California, as well as an instructor for all ages at Journey at Pechanga.
Journey at Pechanga offers several unique programs through the onsite Tiny Tees and Journey Golf Academy. Instructors are able to give golfers of all ages and skill levels a new-found love and bring out skills they didn't realize they possessed.
Golf has quickly become a favorite of millennials and women are fast making their impact on the sport. The Golf for Girls summer series will offer new and existing students the opportunity to learn a sport that can be played for life while empowering girls toward life-long success.
Journey at Pechanga's championship golf course is consistently rated among the top public courses in California and services approximately 36,500 rounds of golf each year. The par-72, 18-hole golf course winds across 7,219 yards. A challenging and rewarding course, it presents a range of topography – canyons, ravines, open fairways and even a tee shot with a 175-foot drop and is nestled on preserved and sacred tribal grounds.
For more information on girls or junior golf classes, or instruction for yourself, call Journey at Pechanga at 951-770-8210 or visit us at www.pechanga.com.