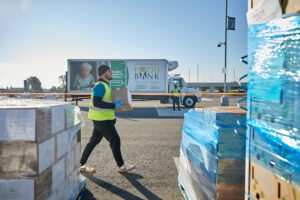 LOS ANGELES – (Dec. 21, 2022) – Nearly 2,300 Angelenos are celebrating the holidays with nutritious foods thanks to the LA Regional Food Bank, the Los Angeles Rams and Pechanga Resort Casino. For the third consecutive year, the Rams and the LA Regional Food Bank teamed up with Pechanga to provide families battling food insecurity with more than 25,000 holiday meals that featured Don Lee frozen chicken, oranges, potatoes, a shelf stable kit, La Brea Bakery bread and coupons for Meat District Premium Burger Patties. Each vehicle that drove through the food distribution also received a set of three baking sheets courtesy of Pechanga. Rams Walter Payton Man of the Year nominee and offensive lineman Tremayne Anchrum Jr., Rams Cheerleaders, team mascot Rampage, front office staff and volunteers from Pechanga, the Food Bank and La Brea Bakery helped load meal kits into vehicles.
"We have a very long history of giving back to our community, and it brings us great joy to know that more folks in need in Southern California are receiving holiday meals this season," said Andrew Masiel, Sr. President of the Pechanga Development Corporation. "It wasn't that long ago the Pechanga people were the recipients of generosity from our community and we never forget that. We're humbled to assist our community members in need of a little help."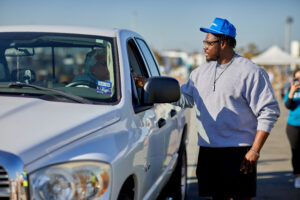 "We're proud to be serving meals to residents in our community with our partners Pechanga and the Los Angeles Regional Food Bank," said Tremayne Anchrum Jr. "It's rewarding to know that the work we're doing is going to make a difference for so many families during the holiday season. I feel honored to be able to give back to the people that support us day in and day out."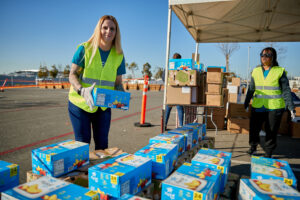 "It's great to continue this tradition again this year and provide nutritious food to the community," said President and CEO of the Los Angeles Regional Food Bank, Michael Flood. "Levels of food insecurity are still high throughout Los Angeles County as people continue to wrestle with high prices for everyday necessities."
Los Angeles County is home to one of the largest populations of any county in the United States. According to the Los Angeles Regional Food Bank, an estimated two million people in the county live with food insecurity. That means one in five residents may not know where their next meal will come from.
The Los Angeles Regional Food Bank and Food Bank partner agencies serve more than 800,000 people each month.
Pechanga and the Los Angeles Rams are corporate partners and continually give back to their communities throughout Southern California.
For more information about Pechanga's community outreach efforts, visit pechanga.com/community-giving
To see the Rams' community outreach, visit therams.com/community.
For more information on the Los Angeles Regional Food Bank, visit lafoodbank.org.